Postulating in the Empty Desert
"Why hello boys. Nice to see you. Come in, come in.
Don't stand on ceremony. The door's always open.
Will you have a cup of tea, something stronger, gin
And bitters, or a single malt ? I pour a healthy dram.
How are things with all the world today?
I seldom read the news. I just don't take the time.
How are things in Glasgow, Auckland, Australay.
I should know, I know. After all, it's mine.
And then it isn't don't you know. It's like
I said back then just before unpleasant
Things started happening to me, large spikes.
Being nailed to a tree. My friends all went
As far as they could get from me as fast
As they could go. Nothing's learned since then.
Oh, they listened I suppose at long last
But for most part, alas, astray they went.
Some few've soldiered on, although, very well
Spreading the "message" and dying for it
Just like I did. Sad business truth to tell.
And now, it seems, all but they ignore it.
Instead most rather like the Renaissance,
The Enlightenment. Refreshing things, they.
All that reason, all that truth and science
All that sense at last in the light of day.
Don't think I hadn't noticed how you all
Had grown to old for games with angels and
Pins. I knew you'd find that would soon pall
When galaxies could be gathered in your hand.
"It's just natural." How that makes me laugh,
Deciding I was unnecessary,
Superfluous, once you had all of that
Knowledge and power, fact and theory.
And so, you've positively grown of late
You've gotten smart, and strong. You've even cloned
Some bits of self. That you'll soon come to hate.
Building monsters is bad for flesh and bone.
What's worse is what you all call the good life, The choices you all make for yourselves, now
That you have autobahns , electric light,
Logical positivism, the Dow.
And yet, I mind. I remember a time
Not so very long ago, though you may
Have forgotten in the effort of your climb
To these heights from what dark obscurity,
When others had adventured on your path
Of knowledge, truth and logic, engaging
Themselves in brave deeds, deeds destined to last
Honored and remembered beyond ages.
How strange it seems now, I suppose, to them
As they look down on ruins in the sand
Where looters dig for goblets, precious gems,
And scientists hold dry bones in their hands
Postulating in the empty desert
About the lives and habits of the dead
As if cultures were what really mattered.
True, indeed, if the cosmos was your head.
Peter Gallaher
Ash Wednesday, 2004
---
family
Every household harbors ghosts
Squealing toddlers grimy-mouthed
Paper peeling where fingers helped
Smudge-marked panes from curious noses.
Every house holds memory close,
Blackened eaves from grandma's candle
Clumsy moving nicked doorjambs,
Every house holds many ghosts.
---
My Gods, My Gods
His eyes were brown. I remember them
Brown and soft, deeply soft.
Her eyes were blue. I remember them
Blue and bright, love and life.
The sky god had earth eyes.
The earth goddess eyes of sky.
He had a Gothic face, long and thin,
Full lips over a firm chin.
His hair had gone from red to brown
He sang to me before I was grown.
I remember her darker hair
Thick about her white face and fair.
Sometimes a strand fell before her eyes
Her hand, pale and slim, gave chase.
She spoke and watered my growing heart.
Her laughter lifted me on the wind of it.
Her long legs and his long ear lobes
I pulled on them when I was young.
And all his songs were hand made poetry
Of wild words and never ever words
While she made magic in the kitchen dressing
Ordinary dishes with love and blessing.
Looking great in dress up clothes
From the closet where they hung
They greeted everyone in all the world.
His one suit, his hat, his overcoat
His public face his public smile
Her silky dress her slim beguile
Of all I've seen still catches my throat.
My first love was me
But I soon abandoned self for these
Two who smiled and sang my days
Crooned the quiet nights and prayed
Broad rivers of harmony and peace I sailed on.
I lay awake in my creaky bed one night
Brother beside me in his, awake too.
Our sister in the other room,
It was so dark, the world darker,
The singing crooning voices
Down the hall now loud and coarse,
Frowns and tears. Where were the smiles,
The songs they sang, the dancing, and the prayers?
They had reigned in my world and went away.
After that I left Paradise
And their soft and lively eyes.
Oh, Paradise! It had not stayed
There where I had left it when I was
Too young to know it was Paradise.
Peter Gallaher
Feb 25, 2004
---
Voices
Voices outside, TV clamor
chatter, stammer,
all unmeaning
Voices inside, wants and instincts,
nothing matters , though --
Not really.
Past the voices,
Past the twinging
Deep within
All is simply
And quite clearly
Peace.
---
Blind Labyrinth
Motto: Love is a beautiful snake shaped necklace; when you put it around your neck it plugs its fangs into your veins and poisons you.
Could it be true?
Could sadness be an artist's only aurora?
In a world of a genuine nature,
In a sphere of wisdom,
Could murder be the answer
To an artist's universal language?
Is decadence the reason why
We wander like blind slaves of agony
Through the labyrinth of hell,
In search for the apocalypse?
In a world where the rainbow arrives only for angels,
In a world where souls need no language
But the truthfulness of art,
It is the artist that stands as a unique voice?
And yet, look how the mortals
Shut their ears,
Cover their eyes with their hands
Full of dust and ashes,
Praising their poor worthless primitivism
And uselessness.
And so they are the beams, the lights, the lovers
The pretending protectors,
The deceiving appearances
That patiently wait at the street corner
With the knife if cruel ignorance in their hands.
Sorana Salomeia
---
Mass
During mass
The curtain tears.
Time's ribs are cracked
Exposed to view
Creation's heart, athrob
In Ag'ny new.
After Mass, time's fabric closed,
All serene, repaired, fulfilled.
Peace fills the air like morning dew.
Still thrill.
---
Solitude
Quiet peace reigns
When "I" relents
Stillness descends
And love regains
(Its) ascendance.
---
.... Fishy Things
Herrings are daring
but they do not ken
the tastes of Scots
nor lusts of men
And when they're gone
Could it be
that Scots will talk
less strangely?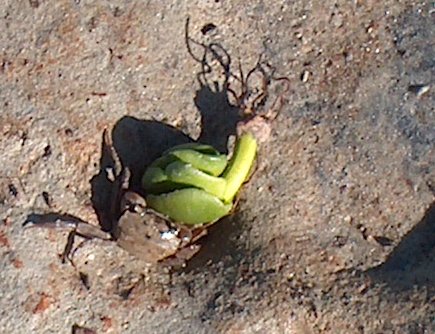 I'm making mudshoes, like snow shoes, for the next bit. They're like short fat skis. If I fall over in waist deep mud I'll have to pretend I'm swimming, take the shoes off, put my weight over them on my hands and push along with my feet.
Practice needed.
---