Scribble
on the net


ACCOLADES AND AWARDS
Every award entails a link. For this reason I shall be applying for only those awards which it seems to me it is a privilege to earn, but whose sites are also worth something, and likely to be of at least minimal interest to scribblers, whether readers or writers. Site awards and accolades to the web mistress are - to me - only one way of keeping track of how I am doing in terms of presenting the work of the poets. A way of keeping me checking that links and gifs are unbroken, and that the best of International standards of web publishing, while never met, are yet kept it mind. This page hopes to tell you then, not only exactly what each award is, but what it is for. It also tells you that you are likely to find something of interest (besides awards) on the site which presented the accolade. One thing you can be sure of is that if an award appears here, it means that I have spent time on the web site concerned and have found at least something to keep me interested.

SPYDERS EMPIRE



I Am A Proud Member Of:

Phenomenal Women Of The Web

WHAT YOU WILL FIND ON THIS SITE:

The statement of the principles of Phenomenal Woman, Nancy Imelda Schafer, an insight into her standards of creative and internet excellence for women and men. The official magazine, Campaign against domestic violence, high quality webrings, good will seals, and the Artistic Seal.

PHENOMENAL ACCOLADE

You have been accepted into a very prestigious group of women on the internet, and in turn been given the "Phenomenal Women Of The Web" seal.

This is a membership into a very exclusive group of Women.

Please don't treat or think of this as just one of your awards to be stuck away on your awards page. It is NOT an award.
It is a statement of who and what you are all about, and your stand on the WWW among the millions

ROTHCHILD I INTERNET DEVELOPMENT CORPORATION












WHAT YOU WILL FIND ON THIS SITE

Great elegance, thought provoking definitionS of web mastery, an 'excite' community, useful links to web site resources, and information of all kinds.

WEBSITE ACCOLADE FROM MARTIN ROTHCHILD

. . .we currently have a back up of over 2500 sites to review and less than 1/3 get this award. We have looked at your site and we would like to congratulate you on a great job done!

We don't require a link back to our site from the award, . . . we don't need the business. We only assist web developers such as yourself to build better websites.

OUR THANKS TO MARTIN ROTHCHILD




LOADSTAR'S LAIR






The MERIT award recognizes effort and the work that goes into developing a Web site. The site must also show some great potential. Work is usually required to achieve that potential properly. Often given to sites which fall down in a really major way in one area -- navigation for instance...... :)


SCRIBBLE'S FIRST AWARD
of which I am inordinately proud

WHAT YOU WILL FIND ON THIS SITE:

The grace, beauty and power of the tiger features in this captivating pictorial and text presentation. Read about the threat these magnificent animals face and view some captivating photos of them in their natural habitat.


DRAGONFLY LANDING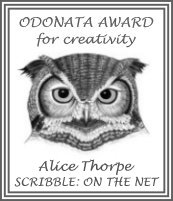 WEBSITE ACCOLADE FROM ODONATA

Your web-site is exceptionally fine, with such a wealth of poetry that,
I confess, I haven't yet seen all there is to absorb and enjoy. You can be sure I'll visit regularly.

Here are two awards for you, the creativity award ...
Sincerely,
JACKIE
WHAT YOU WILL FIND ON THIS SITE:
An elegantly designed site with a great deal of sensitively observed, , interesting and creative material. This is a serene place to visit. An award winning home page, which includes interesting articles and demonstrates loving creativity in every area. I particularly recommend the wonderful gallery in which wild life and cats are lovingly displayed.

THE POETRY OF JONAS
WEBSITE ACCOLADE FROM 'JONAS'

I just finished visiting your website and I am very impressed. Your site is
wonderfully designed and a joy to visit. I am very happy to offer you both of my awards! This is not something I do often, only to sites that in my opinion, go above and beyond.

WHAT YOU WILL FIND ON THIS SITE

A site that has been featured in 'Poetry Today Online. Poetry, Poetry and More Poetry, not just poetry by Jonas himself, but Poetry by his friends, Haiku, Photographs in Verse, Blue Poetry, Erotic Poetry, Dark poetry.. Favourites from the Poets, Favourites from the Masters. A poetry lover's fantasy in glowing cyberspace.


WINTER
1999